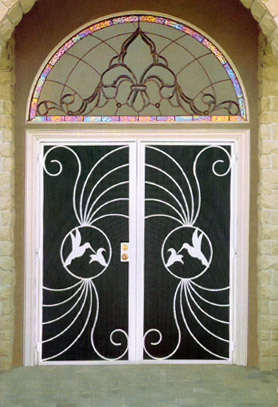 If this world was filled with people who were always decent and sane, you would never have to think about a high security residential door.  But that isn't the case and sometimes security doors are your best bet.
Security doors increase your protection. With the security door locked, you can open your door to visitors without worrying about your safety.  When strangers come to the door they can't see in but you can see out!  You can lock your Security door while leaving your entrance door open, allowing the air to flow in making your home cooler.  You will be much more comfortable during those hot summer months with the additional added benefit of a lower air conditioner bill.
Residential steel security doors come in many elegant styles and colors enhancing the look of your home.  Take a look at the designs we carry below.
Steel security storm doors provide built in "Versatility" and "All Season Utility."  Made by Superior Building Products this new and exciting storm door can change from a storm door to a screen door with a simple screwdriver.  Call Reliable Rescreening for more information on this state-of-the-art door, today.
Residential Rescreening works with you to add to the beauty of your home as well as your security.  Our company stays up on all the latest materials and technology to bring you the very best possible in terms of style and function.
Our commitment to excellence extends to both the aluminum and steel security screen doors that we offer as well as our service. Click here to see our Steel Security Door Samples
CUSTOM COLORS AVAILABLE: WHITE, ALMOND, BRONZE.
ASK DRIVER FOR PRICE ON COLORED DOORS.