Sliding Patio Screen Doors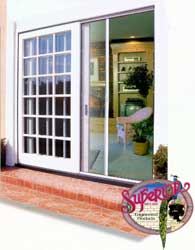 Sliding screen doors can become a hassle over time if not made of the right material and not installed properly. You need to know what's important regarding replacement of your sliding patio screen doors. Because a patio screen door gets a lot of use and is subject to a lot of weather, material and durability are an important factor. Getting your door to fit so it glides when it slides is another factor that you will only get with an expert who knows what he is doing, and has custom measured and installed your door.
Let's talk about material for your replacement patio screen doors. Our knowledgeable staff will look over your home situation and advise you on the correct material to use. Our experts will be able to recommend whether you should use aluminum or vinyl and also what strength the material should be. Each patio sliding screen door is custom measured and installed for best fit. We have several designs to pick from in our sliding patio screen doors and retractable patio screen doors.
Regal
Sizes: 30″ 36″ 42″ 48″ 60″ Wide and available up to 97″ tall
Frame Colors: Satin Aluminum, Bronze, White, Almond.
Extruded Aluminum Frame is : 7/16″ x 1 3/4″"0.050 gage
Extruded spur corners inside mitered frame
Flush mortise latch and aluminum handle assembly
Adjustable steel ball bearing wheels top and bottom 7/8″
Black vinal bug seal
18 x 16 fiberglass screen cloth from Phifer Screen Co