Vinyl Patio Screen Doors
Phifer Pet Screens
Retractable Screens
Sliding Screen Doors
Storm Doors
Window Screens
Pet Screen Doors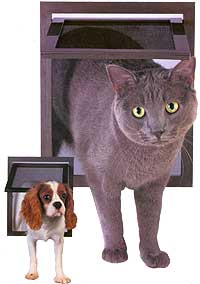 Cat Doors
For pets up to 30 lbs.
Installs in sliding patio screen doors.
A Screen Door with Pet Door attached is the answer for Pet Lovers and their Pets!
Pets can provide their own set of problems when it comes to screen doors. Make your life and your pet's life happy with a screen door with dog door attached.
Have you ever tried to house break a pet when you are gone 8 hours a day and there is no way for your pet to get out?
How do you keep unwanted pests from coming in while still allowing your pets the freedom to get out?
A pet door for screen door allows your pet to go in and out as needed so there are no accidents when you are away. Pet Doors come in 3 standard sizes and custom designs are available. A screen door with pet door attached should be made of the correct material.
Make your sliding screen door pet friendly as well. We have several designs that will work perfectly for a sliding screen door. Your pets deserve the best. Keep them safe and happy with our sliding screen door dog door included. Show your pet you care.
We also have pet guards for your screen doors if you don't want to put a pet door in. This is also very good for little children. The pet guards keep your little children from putting their foot through the screen and possibly getting hurt.
Large pet doors factory custom installed to new swinging and sliding patio screen doors plus.



Custom pet doors install in extruded screen doors only.
Dog Door Sizes
Small: 5" x 7'
Medium: 8 1/2" x 12 1/2"
Large: 11 1/2" x 17"
X-Large: 14 1/2" x 19 1/2"

Cat Door Sizes
7" x 10"
For pets up to 30 lbs.

Installs in sliding patio screen doors.
Home | Door Samples | Client Testimonials | Blog | Contact Us | Site Map
Pet Screen Doors | Phifer Pet Screens | Replacement Patio Screen Doors | Retractable Screen Doors
Screen Door Repair | Security Doors | Sliding Patio Screen Doors | Solar Window Screening | Storm Doors | Window Screens
E-Z Fast Phone Quotes: 1-800-540-5330
Servicing:
Orange County, Los Angeles, Riverside, San Bernardino and surrounding areas

We staff our phones from 8am to 5pm Mon - Sat.
CA. Lic 598856 w Bonded w Insured






©2008 Reliable Rescreening Company. All Rights Reserved. This site designed and maintained by Success Makers Web Site Design Company
Our installation, replacement or repair service ares: All of Orange County including Aliso Viejo, Anaheim, Brea, Buena Park, Costa Mesa, Cypress, Dana Point, Fountain Valley, Fullerton, Garden Grove, Huntington Beach, Irvine, La Habra, La Palma, Laguna Beach, Laguna Hills, Laguna Niguel, Laguna Woods, Lake Forest, Los Alamitos, Mission Viejo, Newport Beach, Orange, Placentia, Rancho Santa Margarita, San Clemente, San Juan Capistrano, Santa Ana, Seal Beach, Stanton, Tustin, Villa Park, Westminster, Yorba Linda.
Los Angeles: Alhambra, Arcadia, Artesia, Azusa,Baldwin Park, Bell, Bell Gardens, Bellflower, Beverly Hills, Bradbury, Brentwood, Carson, Cerritos, Claremont, Commerce, Compton, Covina, Cudahy,Culver, Diamond Bar, Downey, Duarte, El Monte, El Segundo, Gardena, Glendale, Glendora, Hawaiian Gardens,Hawthorne, Hermosa Beach, Huntington Park, Industry, Inglewood, Irwindale, La Mirada, La Puente, La Verne, Lakewood, Lawndale, Lomita, Long Beach, Lynwood, Manhattan Beach, Monrovia, Montebello, Monterey Park, Norwalk, Palos Verdes Estates, Paramount, Pasadena, Pico Rivera, Pomona, Rancho Palos Verdes, Redondo Beach, Rolling Hills, Rolling Hills Estates, Rosemead, San Dimas, San Gabriel, San Marino, Santa Fe Springs, Santa Monica, Sierra Madre, Signal Hill, South El Monte, South Gate, Temple, Torrance, Vernon, Walnut, West Covina, West Hollywood, Whittier.
Inland Empire Riverside, San Bernardino: Alta Loma, Chino, Chino Hills, Corona, Etiwanda, Fontana, Grand Terrace, Highland, Mira Loma, Montclair, Norco, Ontario, Rancho Cucamonga, Rialto, Riverside, Rubidoux, Upland.