A Screen Door with Pet Door attached is the answer for Pet Lovers and their Pets!
Pets can provide their own set of problems when it comes to screen doors. Make your life and your pet's life happy with a screen door with dog door attached.
Have you ever tried to house break a pet when you are gone 8 hours a day and there is no way for your pet to get out?
How do you keep unwanted pests from coming in while still allowing your pets the freedom to get out?
A pet door for screen door allows your pet to go in and out as needed so there are no accidents when you are away. Pet Doors come in 3 standard sizes and custom designs are available. A screen door with pet door attached should be made of the correct material.
Make your sliding screen door pet friendly as well. We have several designs that will work perfectly for a sliding screen door. Your pets deserve the best. Keep them safe and happy with our sliding screen door dog door included. Show your pet you care.
We also have pet guards for your screen doors if you don't want to put a pet door in. This is also very good for little children. The pet guards keep your little children from putting their foot through the screen and possibly getting hurt.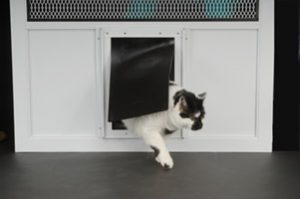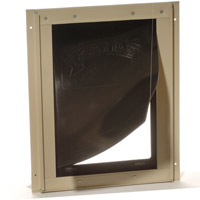 Large pet doors factory custom installed to new swinging and sliding patio screen doors plus.
Custom pet doors install in extruded screen doors only.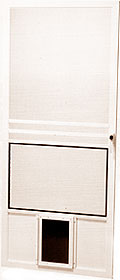 Dog Door Sizes
Small:      5″ x 7′
Medium:   8 1/2″ x 12 1/2″
Large:      11 1/2″ x 17″
X-Large:   14 1/2″ x 19 1/2″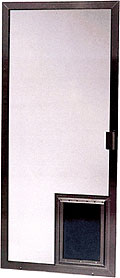 Cat Door Sizes
7″ x 10″
For pets up to 30 lbs.
Installs in sliding patio screen doors.