Vinyl Patio Screen Doors
Phifer Pet Screens
Retractable Screens
Sliding Screen Doors
Storm Doors
Window Screens
Solar Screening



Energy - Saving Solar Sun Screens
THE AFFORDABLE EXTERIOR SHADING
Replaces regular insect screening...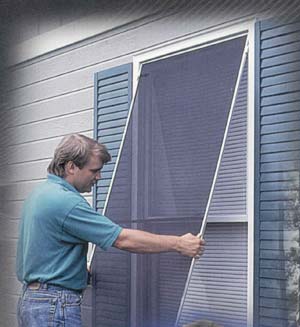 If you live in California, the land of the sun, solar window screening is of vital importance to you for your health and your electric bill. Solarscreening is a leading choice for sun controlamong architects, builders and homeowners. Unlike interior window treatments, such as drapes, blinds or even double blazing (which can absorb and then re-radiate the sun's heat), Solar window screening absorbs and dissipates up to 70 percent of the sun's heat and glare before it reaches the window or door.
Window sun screens cost less than most other sun shading methods, and as a result, usually show a much shorter payback period. They are easily installed on any type and size of window and may be removed and stored if full heat gain is wanted during winter months.
Solar screens for windows and doors save energy...
Sun Screen solar screens offer an easy and practical method for improving the energy efficiency of windows and glass doors.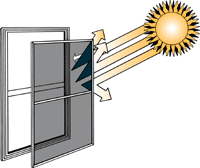 In the summer, most unwanted heat comes in the form of sunlight radiating through unprotected glass. This glass is a building's most vulnerable area for heat gain. In fact, 60 square feet (5.5M squared) of glass can admit as much as 12,000 Btu of heat each hour, requiring one extra ton of air conditioning (East Facing, 8 a.m., Latitude 40degrees N.) Controlling this solar heat is extremely important in energy conservation and passive solar design. Phiferglass SunScreen is specially woven for exterior solar sun screens that blocks 70 percent of the sun's heat and glare before it reaches the glass surface.
In Diagram 1 , at 40 degrees N. latitude in mid-summer, as much as 230 Btu can fall on each square foot of window glass. Although 44 Btu are reflected away by the 1/4'' clear plate glass, 186 Btu penetrate into the work space.

In Diagram 2, adding solar window screening makes a big difference. Of original 230 Btu, 28 are reflected away by the screen, 138 are absorbed and dissipated, only 64 reach glass and only 52 pass through into interior space.
Home | Door Samples | Client Testimonials | Blog | Contact Us | Site Map
Pet Screen Doors | Phifer Pet Screens | Replacement Patio Screen Doors | Retractable Screen Doors
Screen Door Repair | Security Doors | Sliding Patio Screen Doors | Solar Window Screening | Storm Doors | Window Screens
E-Z Fast Phone Quotes: 1-800-540-5330
Servicing:
Orange County, Los Angeles, Riverside, San Bernardino and surrounding areas

We staff our phones from 8am to 5pm Mon - Sat.
CA. Lic 598856 w Bonded w Insured






©2008 Reliable Rescreening Company. All Rights Reserved. This site designed and maintained by Success Makers Web Site Design Company
Our installation, replacement or repair service ares: All of Orange County including Aliso Viejo, Anaheim, Brea, Buena Park, Costa Mesa, Cypress, Dana Point, Fountain Valley, Fullerton, Garden Grove, Huntington Beach, Irvine, La Habra, La Palma, Laguna Beach, Laguna Hills, Laguna Niguel, Laguna Woods, Lake Forest, Los Alamitos, Mission Viejo, Newport Beach, Orange, Placentia, Rancho Santa Margarita, San Clemente, San Juan Capistrano, Santa Ana, Seal Beach, Stanton, Tustin, Villa Park, Westminster, Yorba Linda.
Los Angeles: Alhambra, Arcadia, Artesia, Azusa,Baldwin Park, Bell, Bell Gardens, Bellflower, Beverly Hills, Bradbury, Brentwood, Carson, Cerritos, Claremont, Commerce, Compton, Covina, Cudahy,Culver, Diamond Bar, Downey, Duarte, El Monte, El Segundo, Gardena, Glendale, Glendora, Hawaiian Gardens,Hawthorne, Hermosa Beach, Huntington Park, Industry, Inglewood, Irwindale, La Mirada, La Puente, La Verne, Lakewood, Lawndale, Lomita, Long Beach, Lynwood, Manhattan Beach, Monrovia, Montebello, Monterey Park, Norwalk, Palos Verdes Estates, Paramount, Pasadena, Pico Rivera, Pomona, Rancho Palos Verdes, Redondo Beach, Rolling Hills, Rolling Hills Estates, Rosemead, San Dimas, San Gabriel, San Marino, Santa Fe Springs, Santa Monica, Sierra Madre, Signal Hill, South El Monte, South Gate, Temple, Torrance, Vernon, Walnut, West Covina, West Hollywood, Whittier.
Inland Empire Riverside, San Bernardino: Alta Loma, Chino, Chino Hills, Corona, Etiwanda, Fontana, Grand Terrace, Highland, Mira Loma, Montclair, Norco, Ontario, Rancho Cucamonga, Rialto, Riverside, Rubidoux, Upland.