And now for the Cadillac Retractable Patio Door Screen! The ClearView retractable screen is the best retractable door made. It's the Only Patented Invisible Screen System. Clearview has a "Safe-Glide" Speed Reducer™ that insures their doors will retract fully at a safe speed without danger of trapped fingers or a "slamming" return. This is of vital interest to anyone who has children, small pets or "fingers." ClearView screens utilize the technology of roll-up blinds, updated and advanced to work vertically or horizontally. ClearView's aluminum components are powder coated to withstand the toughest elements and come with a lifetime warranty. There are 11 colors in stock. This retractable sliding screen door requires no maintenance or repair.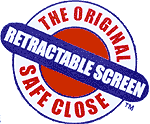 CHILD RESISTANT
Clear View Retractable Screen Systems are child resistant. If you take a close look at the aspiring soccer player, you will notice that he is not only leaning against the screen with his soccer ball, his left knee has been strategically placed through the bottom of it. This does not pose a problem because once it is released the screen will return to the track in its taut position.
MAINTENANCE FREE
One of the greatest benefits of the Clear View Retractable Screen System is that it is virtually maintenance free. When retracted, which is the vast majority of the time, the screen does not gather dust nor suffer discoloration. There is no unsightly screen to block your view; no annual cleaning; no periodic need for replacement and minimal if ever retractable screen door repair.
INDIVIDUALLY TAILORED
Clear View Screens can be attractively mounted on or within practically any single, Arcadia or double door frame up 108″ in height, 96″ in width. Interested in retractable window screens? They can also be sized and mounted on just about any window frame. Door or window frames exceeding 50″ in width normally require the installation of two housing assemblies.
Entry doors
Patio doors
French doors
Arcadia doors
Rectangular or square framed windows
DESIGN FEATURES

The assembly's aluminum housing, pull bar and railings, are chip and fade resistant because they are powder coated rather than spray painted.
Accessories are made of UL rated and UV resistant. They do not become brittle with the passage of time so they last much longer than ordinary plastic parts and are color fast.  There will be very little if any retractable screen repair.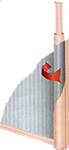 When installed on top of a threshold within a door frame, an anodized or mill finished sill adapter is used to mount lower railings so as to minimize the creation of a trip hazard.
The screen retracts smoothly back into the housing when not in use.
For retractable screen doors Los Angeles and retractable screen doors Orange County call:
Reliable Rescreening Company at 1-800-540-5330.
Reliable Rescreening Company is a certified ClearView installer which means you will receive a lifetime warranty from ClearView for your retractable sliding screen door.  For the best price and the best service every time, call Reliable Rescreening!