Viynl Patio Screen Doors
Phifer Pet Screens
Retractable Screens
Sliding Screen Doors
Storm Doors
Window Screens
Storm Doors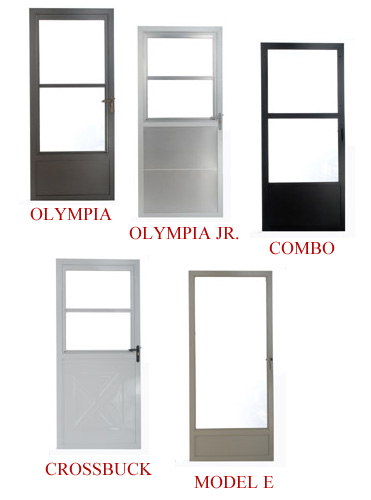 Active Doors have built "Versatility" and "All Season Utility" into their new and exciting Exterior Storm Door line. With a simple screwdriver, you can change your door from a Storm Door into a Screen Door buy removing the glass shield insert and inserting the bug screen barrier for spring and summertime ventilation. In minutes this versatile door can change as quickly as the weather. Be prepared for any climate while enjoying the view and open feeling these beautiful doors provide the homeowner.
In California, we don't have snow and freezing cold, but we sure have dust and wind storms as well as fire. There is nothing more disappointing then having your entire house cleaned only to have a sudden dust or wind storm come up. When it's all over you are left with a half inch of dust everywhere. With our metal storm door, when the dust starts blowing, you just put in the glass shield insert and no dust will get in. You can, however, enjoy the view from your new front or patio storm door without the feeling of being barricaded behind a closed entrance door.
Also in California, we all have experienced the uncomfortableness of smoke and soot from fires. With our storm screen doors you can keep your entrance door open while being protected from smoke and soot with just a simple screwdriver changing the screen door to a storm door.


with a new twist on versatility and utility for all season comfort.
Feature Comparison
Olympia Jr. Features:
2 Verticle sliding tempered safety glass panels
18 1/2' High 2 Diamond Embossed Kick Panels
Lever Handle w/ 1" Deadbolt Thumb Turn Cylinder
Olympia Full Features:
2 Vertical sliding tempered safety glass panels
29" High Diamond Embossed Kick Panel
Lever Handle w/ 1" Deadbolt Thumb Turn Cylinder
Combo Features:
Removable Tempered Safety Glass Panels
Diamond Embossed Kick Panel
Heavy Duty Air Closer with Push Button Latch
Model E Features:
2 -Extruded Push Bars
9" Diamond Embossed Kickplate
Wright Air Closer with Push Button latch.
"Quality"
is standard with Active's Storm Doors.
Home | Door Samples | Client Testimonials | Blog | Contact Us | Site Map
Pet Screen Doors | Phifer Pet Screens | Replacement Patio Screen Doors | Retractable Screen Doors
Screen Door Repair | Security Doors | Sliding Patio Screen Doors | Solar Window Screening | Storm Doors | Window Screens
E-Z Fast Phone Quotes: 1-800-540-5330
Servicing:
Orange County, Los Angeles, Riverside, San Bernardino and surrounding areas

We staff our phones from 8am to 5pm Mon - Sat.
CA. Lic 598856 w Bonded w Insured






©2008 Reliable Rescreening Company. All Rights Reserved. This site designed and maintained by Success Makers Web Site Design Company
Our installation, replacement or repair services include: Mobile Screen Repair, Screen Door Repair, Replace windows Screens, Sliding screen door replacement, Phifer sunscreen, phifer pet screen, phifer solar screen, phifer screens, Sliding Screen Door Dog, Patio screen door pet, screen door with cat door, pet door for screens, Retractable Screen Door Repair, Retractable Screen Repair, Retractable Screen Replacement, Retractable Window, Sliding Patio Screen door, Replacement Screen for Patio, Replacement Sliding Screen Door, Sliding Patio Screen Door, Exterior storm doors, metal storm door, storm screen door, patio storm door, Screen Window, Window Screen, Screen Repair, Window Screen Repair, Custom Doors, Installing doors, installation doors, Security screen door, Screen doors, Sliding doors, Reliable Rescreening Company, mobile screen repair, screen door repair, Solar Sun Screens, Window sun screens, solar screens for windows, solar window screening, Pet door for screen, Screen door with pet door, Screen door with dog door, sliding screen door pet, sliding screen door dog to.
All of Orange County including Aliso Viejo, Anaheim, Brea, Buena Park, Costa Mesa, Cypress, Dana Point, Fountain Valley, Fullerton, Garden Grove, Huntington Beach, Irvine, La Habra, La Palma, Laguna Beach, Laguna Hills, Laguna Niguel, Laguna Woods, Lake Forest, Los Alamitos, Mission Viejo, Newport Beach, Orange, Placentia, Rancho Santa Margarita, San Clemente, San Juan Capistrano, Santa Ana, Seal Beach, Stanton, Tustin, Villa Park, Westminster, Yorba Linda.
Los Angeles: Alhambra, Arcadia, Artesia, Azusa,Baldwin Park, Bell, Bell Gardens, Bellflower, Beverly Hills, Bradbury, Brentwood, Carson, Cerritos, Claremont, Commerce, Compton, Covina, Cudahy,Culver, Diamond Bar, Downey, Duarte, El Monte, El Segundo, Gardena, Glendale, Glendora, Hawaiian Gardens,Hawthorne, Hermosa Beach, Huntington Park, Industry, Inglewood, Irwindale, La Mirada, La Puente, La Verne, Lakewood, Lawndale, Lomita, Long Beach, Lynwood, Manhattan Beach, Monrovia, Montebello, Monterey Park, Norwalk, Palos Verdes Estates, Paramount, Pasadena, Pico Rivera, Pomona, Rancho Palos Verdes, Redondo Beach, Rolling Hills, Rolling Hills Estates, Rosemead, San Dimas, San Gabriel, San Marino, Santa Fe Springs, Santa Monica, Sierra Madre, Signal Hill, South El Monte, South Gate, Temple, Torrance, Vernon, Walnut, West Covina, West Hollywood, Whittier.
Inland Empire Riverside, San Bernardino: Alta Loma, Chino, Chino Hills, Corona, Etiwanda, Fontana, Grand Terrace, Highland, Mira Loma, Montclair, Norco, Ontario, Rancho Cucamonga, Rialto, Riverside, Rubidoux, Upland.